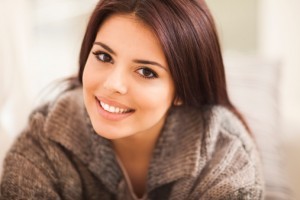 If you have misshaped, discolored or uneven teeth, dental veneers may be a great option to improve the appearance of your smile. Veneers are a shell or thin layer of tooth colored porcelain or composite resin that can be placed over the surface of your teeth. Veneers can either be made by a dental technician in laboratory or by your dentist directly on your teeth during your appointment. If you have a severe case of dullness, wear, discoloration, extensive chipping, cracking, spacing or uneven teeth, then porcelain veneers may be your best option. Veneers protect the surface of your damaged teeth and may eliminate the need for more extensive treatments. Veneers are extremely durable, and don't' require disruption of tooth structure as do crowns. If you want to repair your smile, contact Dr. Davey's Sugar Land, TX dentist office today for an appointment.
Veneers and Bonding
Bonding refers to direct composite veneers. This is an inexpensive yet effective way to fix small chips, cracks and discoloration in your teeth. The dentist may perform a diagnostic examination before giving dental veneer treatment to identify any oral health concerns that must be addressed before veneer placement. The dentist will work with you to select the best tooth color for you from a special shading chart. Imaging technologies can also provide you with a preview of your new smile.
The Veneers Process
First, your dentist will likely administer a local anesthetic to make you more comfortable during the tooth preparation phase and placement of the veneer. Your natural tooth is then prepared by minimally reshaping it with a small handheld rotational cutting device called a bur. If you are getting direct composite resin veneers, the dentist then apply the chosen shade of composite to your teeth, shape the material and then harden it using a high intensity light. The dentist may then need to apply additional layers of composite to achieve the desired shape, length and form of your smile. When the entire composite is placed, the veneers will be finished and polished. If you are receiving porcelain veneers, the dentist will make an impression of your teeth from which a mold of your mouth will be made. This impression may then be sent to an outside laboratory where the veneers will be fabricated.
Quality Veneers in Sugar Land, TX
If you are considering restorative procedures such as veneers or bonding, the first step is to make an appointment with Dr. Davey to discuss which options are best for your individual circumstances. Dr. Davey will first ensure that your teeth are healthy and ready for cosmetic procedures. Dr. Davey proudly serves resident throughout Sugar Land, TX, Houston, Richmond, Katy and surrounding communities.