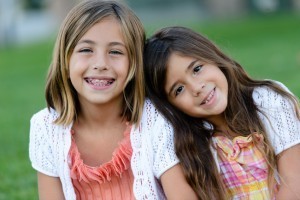 As a parent, you take great pride in ensuring your child grows strong and healthy. However, one area many parents overlook is dental health. Since the baby teeth eventually fall out, too many parents underestimate the importance of teaching oral hygiene habits from an early age. However, the younger you start teaching children to care for their teeth, the more likely these habits will carry over into adulthood for a lifetime healthy smile. As a children's dentist in Sugar Land, we encourage you to set the right foundation for a lifelong commitment to oral health.

Importance of Healthy Oral Habits
Your child's primary teeth play a vital role in their ability to eat and speak correctly. Not to mention, they act as place holders for the permanent teeth. If the baby teeth do not receive proper care, it can produce long-term consequences for your child.
The younger you start teaching children to care for their teeth, the better. They will grow up to understand the value of oral health and how to maintain their teeth and gums. In addition to home care, your children need to visit the dentist for the first time before the age of two. The sooner your child starts visiting the dentist, the more comfortable they will be. From a young age, they will develop a trusted relationship with their dentist to make going to the dentist easy and stress free.
From the time the first baby tooth erupts, you need to accustom your child to brushing and flossing their teeth to prevent tooth decay. Tooth decay is the most common childhood diseases. In fact, tooth decay is 5 times more common than childhood asthma. While tooth decay is common, it is easily preventable with the right oral hygiene habits from an early age.
Children need to be taught early to brush their teeth correctly twice a day using a fluoride toothpaste and soft-bristled toothbrush. In addition, children need to floss their teeth daily. Young children will often need help with this until they develop the coordination to brush and floss correctly.
Children also need to see their dentist twice a year for preventive care. The American Dental Association recommends everyone over the age of two visits the dentist twice a year for a cleaning and checkup. In addition to allowing your child to trust the dentist, regular appointments allow us to ensure your child's teeth are developing correctly.
We will perform an examination to detect potential areas of concern. With early detection, we can intervene to lessen the risk for invasive treatments needed in the future. We will also thoroughly clean and polish the teeth while providing preventive treatments, like dental sealants, to help protect the teeth from damage.
Your Children's Dentist
As a parent, it is important to set the right foundation for your child to make their oral health a priority. Together, we will help your child reach lifelong oral health through the right dental habits. If your child needs a preventive appointment, please contact our office today.