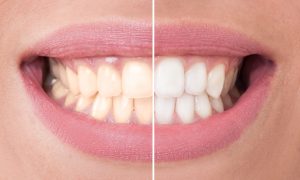 Has your confidence been lost along with your bright white smile? If your teeth have lost their luster due to discoloration, it is easy to feel insecure about your appearance. Whether due to age, genetics, stain-causing foods, poor oral hygiene, or bad lifestyle habits, they cause you to hide your mouth when smiling, talking, or taking pictures. To revitalize your smile, you have yet to visit your cosmetic dentist in Sugar Land because you have recently seen an at-home remedy that claims to produce drastic results. Now, charcoal teeth whitening is all the rave, but is it safe for your teeth?

Whiten Your Smile with Charcoal
If you have been online recently, you have seen countless videos on social media sites that show people using activated charcoal to reverse tooth discoloration. The messy toothpaste is said to deeply penetrate the enamel to get the teeth several shades whiter. The before and after pictures are simply stunning, making it appear to be the ideal solution to combat tooth stains.
Unfortunately, what the videos do not show is the damage that can occur to your teeth. While activated charcoal has been used in the medical field for years, it is not recommended to whiten your teeth.
Charcoal is abrasive, which will wear away at your enamel. As it becomes thinner, you become more prone to tooth decay, tooth sensitivity, and future staining. To protect your smile and to get the results you want, it is best to choose professional teeth whitening in Sugar Land.
Skip the Charcoal for Safe Results
Over the years, whitening treatments have improved to offer safe and effective results with minimal side effects, like tooth sensitivity. A professional-grade whitening agent is applied to your teeth, which is activated using a special light. The powerful, yet gentle gel deeply penetrates your enamel to resolve tough stains. After just one treatment, your teeth with be several shades whiter with results that will last with the right aftercare.
If an in-office treatment does not meet your needs or your comfort level, you can get the results you want from your own home. Now, take-home kits allow you to get professional results around your own schedule. Your dentist will provide you with the whitening agent and trays to use over the course of two weeks. At the end of your treatment, your teeth will be several shades brighter.
Get a Beautiful Smile Today!
If you are tired of feeling like tooth discoloration is weighing you down, it is time to get a bright, white smile with your cosmetic dentist.
About Dr. Paul Davey
Dr. Paul Davey is a native to Sugar Land, providing high-quality dental care to the community that he calls home. In addition to graduating with honors from the University of Texas Dental Branch, he has also received various awards and recognitions. His commitment to provide quality dental care allows him to offer his patients many areas of specialty, including cosmetic dentistry. If you have any questions about teeth whitening treatments, contact Texas Got Smile today.