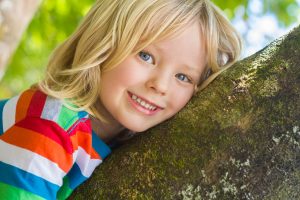 Does your Sugar Land baby love sugar? Children can't get enough of the sweet stuff, including candy, soda, cake, and ice cream — basically, anything that is bad for their teeth. Plus, they might not have yet mastered a good oral hygiene routine, making their smiles vulnerable to cavities. In fact, tooth decay is the most common childhood disease! It is important that you help to protect your young one's teeth. One way you can do so is by talking to your children's dentist in Sugar Land about dental sealants.
What Are Dental Sealants?
A dental sealant is a very thin layer of plastic that the dentist places on the chewing surface of a tooth. It creates a barrier between that precious pearly white and food particles (as well as other substances) that could damage it.
Dental sealants are tough — they can put up with all of your child's favorite goodies, such as sticky candy, starchy chips, and more. These plastic barriers can last for up to 10 years, which is why your dentist will probably recommend that they only be placed on your child's permanent molars, which usually start to come in around age 6. The sealants may need to be repaired from time to time, so your dentist will check on them whenever your child comes in for their biannual appointments.
But Are They Really Necessary?
Sealants can prevent cavities and help to keep your child's teeth in great shape for many years to come, and while they aren't necessary, they are highly recommended. They're especially important for young teeth because those precious little chompers are the most vulnerable to decay soon after they erupt. Therefore, the earlier your child gets them, the better.
What Does Getting Sealants Involve?
You might still hesitate because you don't want your child to go through the discomfort of dental work that isn't 100 percent necessary. Well, you can rest easy; applying dental sealants is a quick and completely painless process. Besides, once the sealants are on, your child might not even notice that they're there.
Here is a quick breakdown of how the application process works:
A dental hygienist, or maybe the dentist, will thoroughly clean the teeth that are going to receive the sealants.
The teeth will be dried and then roughened up slightly with a mild acid solution. These two steps help to make sure that the sealants will have a strong bond with the tooth enamel.
The dentists will paint the plastic onto your child's teeth. It hardens very quickly, so your child can go back to eating and drinking right after the appointment.
Dental sealants can play a pivotal role in maintaining your child's oral health! Why not ask your dentist about them during your young one's next checkup?
About the Dentist
Dr. Paul Davey is your friendly family dentist in Sugar Land. He is a Texas native who is passionate about serving his community. If you would like to ask Dr. Davey about dental sealants or anything else related to your child's oral health, please contact our office at 281-494-2181.