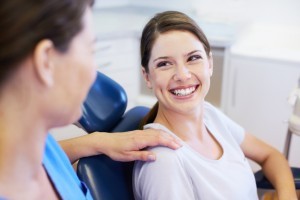 If the thought of going to the dentist makes you downright terrified, you are not alone. Many people feel anxious or fearful about their dental appointments, and for some it prevents them from getting much needed dental work done. You should know however, that there are options available to help you feel more relaxed and at ease during your dental appointments. Learn here how sedation dentistry can help ease your dental fears.
Oral Sedation
Oral sedation is a prescription that your dentist will give you to take one hour prior to your appointment. The medication will help you feel relaxed and comfortable throughout your procedure. You won't be asleep, but you may feel sleepy and relaxed, and you may not have much memory of your appointment. With oral sedation you will need to arrange for a ride to and from your appointment and you should not plan to participate in your regular activities for the day because the medication doesn't leave your system right away.
IV Sedation
IV sedation is medication that is administered by an anesthesiologist who monitors your vital signs and heart rate throughout your entire procedure. IV sedation works well for patients who need multiple procedures, have a strong gag reflex, or require complex or extensive dental work. You will also need a ride to and from your appointment and time to recover after your IV sedation appointment. If you've been avoiding your dental work due to fear or anxiety talk to your dentist to determine if IV sedation is the right option for you.
At Texas Got Smile, we don't ever want fear to hold our patients back from the care that they need. Our warm, friendly, and gentle care is enough to put most patients at ease. For those who need extra help getting through their appointments Dr. Paul Davey is your sedation dentist in Sugar Land and he offers options for dental sedation that will meet your needs. The first place to start is a consultation to discuss your needs and goals for your smile, and Dr. Davey can help you decide if sedation dentistry is right for you.
We offer a full range of services at Texas Got Smile and we look forward to being your partners in optimum oral health. So whether you just need a regular cleaning and check up, or you've struggled with a missing tooth, or teeth in need of repair, Dr. Davey has the knowledge and expertise to help you achieve your goals for your smile.
Don't let fear keep you from achieving the smile of your dreams, contact our office today to learn more about sedation dentistry.