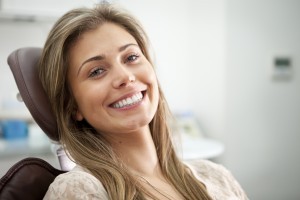 You love Houston – moving here to take the promotion of your dreams was definitely the right decision. Now that you're hear and getting settled in, you love the nightlife, the great restaurants, and the fact that you're not too far from the beach. But there's one thing you haven't been able to figure out since you've moved: finding the right dentist in Sugarland. In this post, the tem at Texas Got Smile shares their tips on how to select the perfect oral healthcare professional for you. Use the 4 C's to make dental care easy.
#1 – Comprehensive Services
Although it may seem obvious, make sure your dentist can perform all of the services you need them to. There's nothing more frustrating that developing a relationship with someone you trust only to be referred out and treated by a dentist you don't know. At Texas Got Smile, Dr. Paul Davey is proud to offer a full range of services, including:
Preventive Dentistry – exams, cleanings, X-rays, dental sealants
Restorative Dentistry – dental implants, root canal therapy, crowns, neuromuscular dentures
Neuromuscular Dentistry – expertise in TMJ dysfunction, jaw alignment problems, and facial muscle disorders to end pain
Cosmetic Dentistry – porcelain veneers, teeth whitening, Invisalign, complete smile makeovers
Sedation Dentistry – oral conscious and IV sedation for patients with dental anxiety
Periodontal Treatment – treatment options for advanced gum disease
Sleep Apnea Treatment – custom oral appliance therapy to replace or augment CPAP use
Same-Day Emergency Dentistry – call (281) 494-2181 for urgent care
#2 – Credentials
Be sure to check the professional credentials of any dental professional you're considering. Look for someone who's a member of the American Dental Association like Dr. Davey is, and research where your dentist went to college, and where they've attended continuing education courses. Dr. Davey is a proud graduate of the University of Texas and is has received advanced training from the prestigious and world-renowned Las Vegas Institute for Advanced Dental Studies, so you can trust his expertise and years of experience.
#3 – Chairside Manner
All the credentials and education in the world can't guarantee a quality patient experience, so look into your dentist's approach to patient care. Read online reviews to see what people just like you have experienced before scheduling an appointment with a prospective provider. If you search for Texas Got Smiles, you'll see that we're rated 4.8 out of 5 stars on Facebook and 5 out of 5 stars on Google for a reason – people love being treated with the respect, patience, and compassion that Dr. Davey provides.
#4 – Community Involvement
The true measure of a dentist's caring nature is their dedication to their community. By giving back, dentists show their altruistic approach and gain meaningful experiences that only volunteering can provide. This is exactly why Dr. Davey is involved with the Fort Bend Chamber of Commerce, several churches in the area, and he's a volunteer dentist at the San Jose Clinic. Additionally, Dr. Davey shows his social responsibility and commitment to environmental sustainability by participating with the Coastal Conservation Association and Duck Unlimited. You can tell that Dr. Davey's desire to make the world a better place stretches far beyond his dental practice – and isn't that what you want in an oral healthcare professional?
Now that you know how to find the right dentist in Sugarland, and why Texas Got Smile is the practice for you, schedule your appointment today!